Partners and families
Support and connection for families of veterans or current ADF members.
When one member of the family experiences a service-related physical injury or mental health issue, the entire family can be affected.
Spouses, partners, children or parents of veterans with service-related injuries can experience isolation or their own mental health challenges as a result of the circumstances of military life. We want you to know that it's okay to reach out for help. Our support options are available for immediate family members.

From psychological services, to family BBQs, social connection activities, or yoga classes – we are here for you; to listen, to support, and to provide you with professional guidance to improve quality of life and relationships. You'll also meet other families who understand the challenges often faced by Defence families.

As a partner, child, or parent of a veteran with service-related injuries, you can apply to join Mates4Mates at any time. Your partner does not have to be registered for you to apply to join.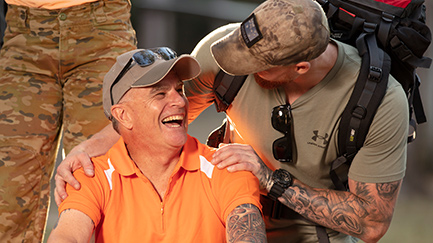 Men's Health Week – Making positive changes
This week is Men's Health Week, an important initiative focused on improving the physical health and mental health of men across the world. In this article our Exercise Physiologist Nami dives into hard truths about men's health and the positive lifestyle changes that can be made.
Get in touch
To find out more about joining Mates4Mates, accessing services or supporting our cause, fill out our form or call 1300 4 MATES (62 837) during business hours.