Men's Health Week – Making positive changes
Men's Health Week – Making positive changes
17 June 2021
This week is Men's Health Week, an important initiative focused on improving the physical health and mental health of men across the world. In this article our Exercise Physiologist Nami dives into hard truths about men's health and the positive lifestyle changes that can be made.
The facts
On average, men live 4.4 years less than women, with a large percentage living in poor health for their last 11 years. The premature deaths of men are due to the likely hood of developing cardiovascular disease, as well as liver disease and diabetes. According to Men's Health Week, more males die at every stage through the life course, with more having accidents, taking their own life, in motor vehicle accidents and suffering from lifestyle-related health conditions than females at the same age.
On a positive note, 70% of men's overall health can be controlled through lifestyle changes. Men who are not physically active not only bear physical health issues but increase their likelihood of depression and mental health issues by 60%. On top of this, poor diet choices also contribute to the development of chronic diseases, which altogether lead to reduced quality of life.
Positive lifestyle changes
Remember, it is not too late to make a change. We all can change the statistics. Let's create change together, by:
Being active for 30 minutes on most days. This can be as simple as going for a brisk walk.
Seeking help or talk to someone about mental health concerns. There is no shame, be open and honest.
Working on a healthy diet. Start by eating 5 servings of vege, 2 servings of fruit and limiting packaged/processed food.
Limiting alcohol consumption to 2 or less standard drinks per day and aim to have re-occurring alcohol-free days.
What can others do?
If you would like to support a friend or loved one in their transition to better health, here are a few ways to help:
Take the time to ask if they are ok.
Be supportive and avoid judgement.
Encourage healthy choices.
Encourage their involvement in social and physical activities.
Be aware of and encourage the use of support services.
Don't sit back and let the statistics grow. Your small changes today will have lasting impacts. If you would like some guidance to taking the first step, have a chat with one of the Mates4Mates Exercise Physiologists or Psychologists. Take the first step here.
If you or any If you or someone you know is in crisis, contact Lifeline, Open Arms, Mensline Australia.
Written by Exercise Physiologists Nami Terada.


Sources:
https://www.menshealthweek.org.au/
Tags:
Physical health and wellbeing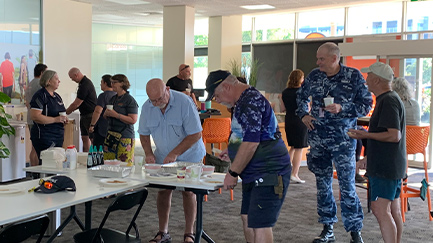 Mates4Mates opens our Northern Territory Interim Centre
Mates4Mates, one of the country's leading charities providing physical, psychological and social support services to the Defence community, today opened the first veterans' health and wellbeing centre of its kind in the Territory, welcoming all former and current personnel, and their families, impacted by service.